Tuesday, February 28, 2006
The tailpiece on my rented cello has a thin strip of
ebony-like wood on the face near the top. I think it normally acts as a "nut" for the lower ends of the strings to ride on, if you don't have fine tuners. I do have fine tuners, so it's just a decoration. One end was loose, which made me think it was the reason for the buzzing sound on certain notes - primarily B on the G string. I tried to push it back in, but it wouldn't stay. So genius gets his pliers and tries to force the lifted end of the piece down into the slot. Of course it broke. So then I tried to pull the whole thing out of the slot, and it broke again, and I finally broke off a third piece - this time with a few extra splinters. Fortunately, the breaks were along the grain, so with my magnifiers, dental tools, and tweezers I carefully glued all the pieces back together. I had to sand it a little, but eventually, it ended up looking more or less OK. I crammed it back into the slot. It still doesn't fit right, but hey,
my new cello is supposed to arrive tomorrow!
If all goes well, I will only play this cello one more time! And unless you put on magnifiers, you can't tell....
My new cello has traveled from Berkely to Oakland, and on to Knoxville, and is now on a plane to Anchorage. I assume it will arrive there tonight and be flown down to Kenai tomorrow morning - hopefully in time to get on the one delivery truck of the day. The problem is the truck makes a run all the way to Homer before making deliveries in Kasilof, so my poor cello will have to ride all over the peninsula in the back of a cold truck before it gets delivered. I tried to call them to see if I could pick it up at their office in Kenai in the morning, but they don't publish their phone number. I called the UPS store in town to see if they'd at least relay a message - they wouldn't... The best I could do was get the tracking number and follow it all day on the internet.
I went through the bulletin board thread-by-thread and deleted about ten postings in addition to the ten or so from yesterday. Now the problem is getting people to use it. It's up to 330 members - it only had 180 in December - so it appears to be growing steadily, but hardly anyone is posting...
The cat and the dog have been fighting. Shadow arches and hisses whenever she gets close to the dog. Until today, Maggie would back down, but this morning it was different. Maggie has been actively seeking out the cat, not attacking but tempting the cat to attack her. I don't think any skin has been pierced, but there have been a few battings in both directions. The cat has been very aggressive, running up to Maggie with her back arched, ears back, and crab walking (more like crab dancing) up to the dog hissing and spitting, and then running away. Maggie is being quite patient, but I'm a little worried that she might bite the cat's head off. In a way, the cat seems to be playing... she LOOKS like she wants to make friends, but now Maggie seems more primed for a fight than she's been until now. It's a drama that has to play itself out to the end. We can't stop it and we can't really determine the outcome. Either Maggie will kill the cat or they'll end up being friends.
Monday, February 27, 2006
I bailed on my lesson
It started snowing when we got up and kept snowing steadily all morning. I would have had to leave at 11:30 for my 1:30 lesson to account for the snow. I decided I really didn't want to drive that far in another snowstorm, so I called my teacher and cancelled (with profuse apologies). She wasn't surprised, saying she wouldn't want to go out in this and that it was still snowing heavily there and the wind was blowing - a complete whiteout.

I asked if we could reschedule later this week, and she said she'd call me back later once she sorted out Saturday's schedule. She mentioned she had tried two Andreas Eastman 405 cellos in Anchorage last week, but really didn't care for either of them. I told her I had ordered a Jay-Haide cello from the strings store in California and it should be here in time for Saturday's lesson.

So, instead of going to my lesson, I spent the day plowing and shoveling. After all, we ended up with only 5 inches, and of course it stopped snowing right after I cancelled. Of course I would have still had to follow the snowplows most of the way and still might not have made it in two hours.

Yesterday, I sent an email complaining to the Cello Heaven forum's webmaster about spam that had shown up on almost every board on the forum, begging for someone to clean it up. I got an email back today setting me up as an Administrator on the Board. That lets me remove messages, censor posts, ban people, etc. Power! I cleaned up the spam... Now I feel some responsibility to try to keep the forum alive.

I only played an hour and a half today, but it was a good workout. I took the sleeve off the A string point on the bridge. The pressure of the wide sleeve had "cleaned" up the notch in the bridge and the A string sounded much better - brighter, with no buzzing, or shrill noises (a cleaner sound). I am keeping my left forearm elevated most of the time, and I seem to have found a comfortable bow-hold based on the pictures I printed out.

Sunday, February 26, 2006
untitled
I just can't think of a catchy title tonight.

I played in three sessions today, breaking for lunch after the first hour and again after 45 more minutes when my brother stopped by, then a final 45 minute session later this afternoon. I've been spending a lot of time redoing the early pieces - in different orders every day. I'm trying to get each one "perfect", which means I'm paying more attention to how it actually sounds - not just that I can get through it hitting all the right notes, in good rhythm and tempo. For the first two sessions the cello sounded pretty good, but by the third one it seemed off. I didn't have my tuning setup with me, so I couldn't check it, but I think the D string had shifted off a bit. I have not been able to comfortably tune the D, G and C strings off the A.

My bow hold was better today, using some pictures I found on the internet.

Tomorrow I have my fourth lesson. Tomorrow, also, my new cello is being shipped! It should be here Wednesday or Thursday...

Saturday, February 25, 2006
Shadow it is
About the most exciting thing that happened today was finalizing the name of the cat. It was cold, gray, and lightly snowing most of the day. When I think of winter, this is the kind of day that comes to mind. This is why I hate winter.

My left ring finger feels sort of bruised at the tip. I don't recall exactly doing anything to cause it. It showed up a few hours after playing this morning. I didn't play any differently.

I steadily practiced hooked bowings. This is where you stop the bow at the end of a note and restart it in the same direction for another note (sometimes the same note - as in the Bach Minuet, or two different notes and in a different rhythm - as in the Schuman piece.) It will take some practice to master this seemingly simple motion. I played it over and over again on the open strings, so I was essentially relaxing the left hand and letting my right arm figure it out. After I got up to speed, I slowed it back down and began playing the actual notes, slowly and then quickly picking up speed. This is a new right arm action - until now the bow goes back and forth, in or out, with each note.

Learning the cello has been an interesting process. As each new physical action is introduced, it seems awkward, impossible at first. But by repeatedly doing that new action, slowly at first and gradually building up speed and then finally inserting it back into the piece, the muscles eventually memorize it. Then, when you play that memorized action, it is seemingly effortless. This happens over and over with increasingly greater challenges. Each challenge is only mastered with time and repetition.

I don't feel at all comfortable with my bow hold. I want to explore this fully with my teacher on Monday. Sometimes I'll feel like I've found it, but then I can't find it again, or it doesn't work the second time. I want to closely inspect her bow hand while she's playing. My D and A strings sounded much better today. They quickly tuned and stayed in tune. The D was giving off ringing tones at several of the positions. The A didn't sound so shrill. I got through Rigadoon and the Etude without much effort, then I went back and did the tricky parts slowly and repetitively.

Friday, February 24, 2006
Tonight the cat's name is Shadow
Shadow, the cat is quickly warming up to us; she seems to want to lay on me more than on Y; which p....s her off. I am s-o-o-o-o-o much more tolerant of a kitten than the I was the last time - more than 25 years ago. In those days my attitude towards cats was "if I'm going to feed that damn cat it sure as hell better be obeying me! and if it thinks it can get away with pulling an attitude then it's going to have to find somewhere else to eat." Even though I knew it intellectually, some warped part of me couldn't accept the fact that cats don't obey humans. They never have. They never will. A cat may occasionally do something a human "told" it to do, acknowledging that it does care about ensuring its meal ticket. But there are some things it will never
obey
- "sit", "stay", "come here" only work if they feel like doing one of those things when you tell them to. No matter whether they agree or not, at some point in this encounter, they'll take a moment to sit and casually lick one of their paws. It's the cat's way of saying: "I could scratch your eyes out if I wanted to ... but I
choose
not to."
I slipped the D string's little plastic sleeve off the bridge today. The notch in the bridge has been widened and rounded out by using the sleeve for a day; the string is no longer trapped in the groove and it sounded a lot better. The A string sleeve may have done the same thing for its notch, but right now it actually sounds pretty good.
Again I varied the routine, still playing all the pieces but in a random order. It does make it more interesting. I've been using the first hour for the older pieces and the second 45 minutes to an hour on the four new pieces. I've got the first one well under way and the second is showing progress, but I've got a long way to go with the third, with its hooked bowing. Same with the Bach piece. I played each section over and over and over, slowly but trying for accuracy and rhythm. Then after several runs, I'd gradually increase the tempo. If I "lose" it, I slow down a notch two and slowly work back up again.
I upgraded the bow today. I had called the strings store to ask about upgrading to a Bam Hightech case from the Bobelock, but they won't get any Bams back in until May. So I went for a better bow, instead. J was off today, but the guy I spoke with seemed quite knowledgeable about my order and quickly answered all my questions. It all goes out Monday afternoon; I asked him to let me know what the shipping number is, so I can call from this end to arrange to pick it up as soon as it comes in. I'm guessing Thursday. Y is betting Wednesday.
We're now the proud owners of 9.253 acres of land up on a ridge just east of our current 10 acre spread. The development includes 6 to 8 comparably sized lots, ours is in behind the first ridge. It has a small hill right in the middle; with a good view of the Kenai Mountains but only a partial view of the volcanoes to the west. I've little doubt that one day it will be prime property - a great building site for someone. I'm not sure I'd want to build another house, there or anywhere else. But eventually, someone will, and the property's value will increase. Meanwhile, we'll put in a drive, a motorhome parking pad, and electricity. This will also increase the value. It feels like a good investment, a diversification.
As an ongoing dividend, we get to use it as our own private RV park with a view. We'll put in a wooden patio/deck, a firepit and a picnic table. Maybe a gazebo next year (with screens and glass windows) and an indoor barbecue/firepit, and eventually a small storage shed. I'm also going to bury iron posts at the entrance and stretch a heavy duty chain across the driveway when we're not there.
Thursday, February 23, 2006
Powder (maybe)
She is completely gray with six toes on each foot. They make her feet look funny. A very striking color of gray, completely uniform over her whole body. Maggie is very curious, and hasn't taken her eyes off the cat since we brought her home. Now she's acting aggrieved. Even though she got a new pillow to sleep on today. The cat already hissed once at her. It'll take a while for things to sort out between them (my money's on the cat), then I suspect they'll be good friends.
Unfortunately, my new cello won't be shipped till Monday - it's finally ready, but they were worried about it being left in a cold UPS warehouse somewhere over the weekend, so they wanted to wait till Monday to send it out. Reluctantly, I had to agree. I asked them to put some parchment on the bridges under the D and A strings. They also put some on the spare bridge, and they'll put a few extra in the case. They'll also put a basic care kit (micro fibre cleaning cloth for daily cleanup and some polish for biweekly cleaning - with a tee shirt). Also several dampits, which they'll wet just before shipping. I added a Boss chromatic tuner for $30. It turns out I get a 10% discount on the cello itself since I'm buying an "outfit" - bow and case. That's almost $500. Im considering calling them back tomorrow and using that $500 to upgrade the case from a Bobelock to a Bam Hightech (I'd have to chip in a few extra bucks). It's made with ABS and weighs five pounds less, and is more durable. IF they have one and IF the Ruggiere design fits... Although it's only been a week, it seems like forever since I first talked to them. Now another long week...
The plastic sleeves I put on the A and D strings at the bridge on the rented plywood scratchbox worked great! The strings sounded so much more open and clear! I used an exacto knife to trim the little plastic sleeves down to the width of the bridge, then I retuned it. I never did find the site where I'd first run across that idea. Consequently, my playing sounded so much better today. I don't know how this would fly with the pros, but hey, it worked for me as a temporary fix. I'll cut them off before I return it to the violin store.
I played a completely different "program" today. All the same stuff, but in a different order. It was interesting to vary the routine. I put more time into different pieces and sections of pieces. At the end, I spent almost an hour just working on the last four pieces - playing the difficult parts over and over, slowly, until I felt like they were beginning to flow smoother.
It is a challenge to do the half dozen sections where I have to stop the bow in mid-stroke, change the note (and string) and then restart the bow in the same direction. Also, on the Bach piece I have to bow the same note twice on one bow stroke, stopping just for an instance between them. These really aren't technically difficult in themselves, but it's a new action for me and I just need to work on them. I sure would like to be able to show my teacher that I've at least gotten some control of these particular strokes. I also found myself bowing crisper dotted notes - especially with Suzuki's "eighth-eighth-quarter" and "quarter-eighth-eighth" rhythms.
Tomorrow we sign the papers forour land.
Wednesday, February 22, 2006
The A string has cut into the bridge
Today, I was not at all happy with the sound from the cello. The outside temperatures had fallen a bit, and humidity was maybe lower. After a while, the G string seemed to open up a bit and began to sound OK. The C also eventually sounded a bit better (although still muddy). But D and A remained shrill, squeeky, and whiney. I tried detuning and retuning; I tried more rosin; I tried different bow tensions; I tried different finger pressures and locations - with no improvement.

I gave up after an hour and a half and carefully inspected the strings with a magnifying glass. I found that the A string had cut a deep channel into the bridge, so that the top of the string was below the top of the bridge (supposedly only a third of the string's diameter should be "in" the wood). The D string was also cut in a bit, but not as bad.

On the Cello.org forums there have been some discussions about filling these cuts with superglue and then gluing a piece of parchment over the top before restringing it. I ordered some parchment online (along with some books), and it should arrive in a few days. Meanwhile, I recalled seeing some advice online (I can't find where, though) that suggested slipping a short piece of small diameter plastic tubing over the string to sit on the bridge. The smallest diameter I could find came from a ball point pen ink cartridge. I cut a few 1/8 inch lengths and slipped them over the A and D strings at the bridge. I was able to retune, but I didn't play long enough to tell if there was any improvement. I'll see tomorrow. If not, I guess I'll try the superglue without the parchment. In any case, as soon as my new cello arrives, I'll be playing on a new bridge...

I didn't hear from the strings store in CA today. I "hoped" they'd call, but I really didn't expect them to. I will call them after lunch tomorrow...

Meanwhile, I'm frantically trying to find where I saw that "trick"...

Tuesday, February 21, 2006
Maybe they'll ship my new cello this week...
I called my strings store in California today, as promised. J seemed to need a moment to come up to speed on my order, even though this ought to be a pretty big sale for him. He said the luthier had looked at the one Jay-Haide a l'ancienne Ruggieri cello that they had at their store, but he didn't like it for some reason. He has located another one (from stock? from another store?) and is currently setting it up (fitting the pegs, setting the soundpost, installing the tailpiece, putting on the bridgeboard, stretching the strings, and planing the fingerboard if needed). Then he'll make fine tuning adjustments to all this, changing out individual strings as needed to make it sound the best. It was supposed to be done in a "day or so".
We went over the extra bridge, the Wittner tailpiece with integrated fine tuners, the carbon fiber enpin, and the second bow. I asked about the strings. He said they always put their best strings on this line of instruments, selecting the individual strings as needed to get the most out of it. Haide specifically designed this line of cellos for professionals, and would only send them out "ready-to-play". The case was on hand at the shop and ready for shipping. He hinted that it could all be ready to go out by Friday. I said I'd call back Thursday after lunch, if I didn't hear from him first. I'm beginning to worry that I won't have it in time for my Monday lesson - I'd like to show it to my teacher. More importantly, I want to start playing it, now. Oh well...
Today, I quickly worked through the first half of the Suzuki Volume 1 book, getting it pretty clean on the first run-through. I don't have any illusions, but I'm playing the first seven or eight pieces pretty cleanly - technically - with good intonation (lots of ringing tones, now), smooth bowing, and appropriate tempo. I'll always need to work on quality... I ran through "Rigadoon" today with no errors, and even a time or two on the "Etude"; not so far on "The Happy Farmer", but I did get the hooked bowing right once or twice.. Still working on the first half of the "Bach Minuet #2" (
I can't believe I'm already playing Bach!
).
I finished up by running through the songs from my mind. I pulled up another one today - "Onward Christian Soldiers" (somehow it feels a lot like "Battle Hymn of the Republic"). These must come from church or school choir when I was a kid? Just for a change of pace, I've been playing a lot of these pieces in the C major key, second octave (which starts on G+4), which requires all different fingering compared to working from the open strings. Even though the fingers have to go to new places for each note, for some reason they "know" where to go. I feel like this is building good mind / ear / finger coordination.
I'm trying to find a place to keep my new cello. There's not much available space left in the living room, but I have to move it away from the window with the direct sun and cold nights. It needs to be kept in its case. I have an eye on one place, but Y was cool to that one... She thinks I ought to keep it in the bedroom and lug it back and forth to the living room every time - or even just play it in the bedroom. I tried to explain that I really enjoy playing in the living room in the mornings while the sun is coming up in the southeast. It helps my playing. I don't think she gets it. I also told her it would only increase the likelihood that it will get scratched and dinged up going up and down two sets of stairs every time I take it out or put it back.
Monday, February 20, 2006
Ice Dancing
I really love the ice dancing part of the Olympics. I sure hate the commentators though, and wish they could be muzzled during the performances. Thay can say whatever they want before and after, but they should keep their opinions to themselves during... If we could turn off their voices and still hear the music, I would...
I had a good solid cello session today, breezing through all the first part's routines with little trouble. I even worked through the first piece in the newest set, Rigadoon, with only a little effort. Also the Etude. I worked a long time on the hooked bowing for the Happy Farmer - and I think I finally got it. I still need to smooth it into the rest of the piece, but I got a better feel for it. I even got through the first half of the Bach Minuet No. 2. I still can't believe I'm playing Bach already! My teacher told me to only play it pizzicato, for now, but I couldn't wait.
I've been hearing some buzzing from the lower strings, and couldn't find the cause, so today, after playing, I took a magnifying glass and examined all the strings and the tailpiece. Finally, I found a plastic strip that fits into a small channel running across the top of the tailpiece that was loose at one end. I tried pushing it into the groove, but it wouldn't stay put - it needs glued. I can't figure out what purpose it serves, but ... Maybe I'll call the violin store tomorrow, although I'm pretty sure he won't let me glue it down, or pull it out... But the buzzing sure is annoying.
I've been hitting a lot of "landmarks", where the tones just sound great! with lots of resonance and timber. Not every note, and unfortunately not every time, but when they come they sure sound nice! I didn't even look at my fingerboard today. My left hand just knew where to go (most of the time). My left arm position and bow hold are continuing to improve. My right arm and elbow still need a lot of work.
Cartoon Violence
I don't like violence in cartoons, either. Seems like Bugs Bunny and Daffy Duck have just been beaten, shot, blown up, dropped, and generally slaughtered far too many times.
What if the Americans formed mobs and burned a bunch of arab embassies and flags, and stuff; for whatever contrived reason - such as al Jazeera's incessant cartoon-like coverage depicting Americans doing all sorts of vile things? I can't figure out why our lefties don't get upset at their total lack of any tolerance. Then they all put on those s...t-eating grins when algore goes to arabia and provokes more anti-US hatred. That idiot doesn't realize that the arabians don't distinguish him from the rest of us (we all look alike to them). What a bunch of morons!
WWIII is slowly creeping up on us and the lefties don't have a clue.
Sunday, February 19, 2006
Televised Olympics
NBC sure does a lousy job year after year with their Olympic coverage. Too many boo-hoo stories, too much hero-worship, too much blabbing by the commentators, too little coverage of other countries, too little actual sports. Why can't they just shut up and let us watch the action?

The worst are the skating commentators. Rather than let us watch the skaters and make up our own minds about the performance, they start criticizing and discussing their perceived flaws, etc. What makes it worse is that sometimes after having to hear their negative comments the judges award that skater the highest marks. I'd turn off the sound, except then we wouldn't be able to hear the music. (I liked how the one guy skated to "The Swan" by Camille Saint-Saens - I wonder who played the cello in that version? - he even wore an orange glove and during a sit-spin he gradually raised that arm as if it were a swan lifting its head.)

The Bode Miller hype got so far out of hand that I wasn't surprised to see him flub it. If you can believe the coverage, he didn't bother coming out the day before and doing some practice runs on the course - then he blew it on his run by not really knowing the turns. However in another event, he did an amazing recovery after his left ski got tangled behind him - it cost him the gold, but he stayed on one ski for some time as he got control of the other one and managed to bring it around and back into place - awesome.

I didn't mind the coverage of the curling - you need some commentary to explain what the heck is going on. But I was p.....d when I learned that the curling had all been pre-recorded for later showing on TV in the US, yet they would run the tape during their interminable commercials, so we missed the first third of each set.

I played another two hours this morning on my cello. I had intended to go back to it this afternoon, but I just didn't feel up to it today - I've been having sinus troubles, lately. I'm slowly progressing through the four newest pieces. I think I've gotten the first half of the book down pretty well. I'm finding that my left hand is starting to "know" where to go on the fingerboard without having to look or adjust too much. I still have to consciously think about my right hand position on the bow and my left arm height.

I'll be returning this cello to the violin store right after my new cello arrives. I wonder if they'll care if I tell them the C string is muddy, the D seems to frizz, and the A is too nasal; but the G string is great! Would they make any adjustments to it, or just clean it up and shove it back into the stock for the next renter?

Saturday, February 18, 2006
Looking for a cat
We've started looking for a kitten. Even though our winter will last quite some time yet, the end is in sight. We had decided to wait till spring to get a cat, but whatever. Not many kittens this time of year, though. I guess the cats don't go out a lot when it's cold. The local animal pound said kittens start showing up in a month or so.
Y heard one ad on the radio, so we went to check them out this morning. As soon as we pulled up, a big pit bull (year old) puppy came bounding out the door. Consequently I wasn't surprised that the three kittens were quite wild when they brought them out show us. The mother cat came flying around the corner with all claws out - no doubt she's been busy trying to protect her brood from that oversized floppy dog that just wanted to play with anything that moves.
At first we weren't sure how you were supposed to figure out the gender of kittens, so I googled it and quickly learned everything you'd ever want to know about gendering a cat, including lots of detailed pix. Y had decided she wants a female, with short hair (less hair to vacuum) and gentle. The three kittens we saw were all male, had medium to long hair, and were wild.
Thankfully Y told the guy "no thanks".
We'll keep looking.
After a normal 2 hour session this morning (where I steadily made progress on the four new pieces), I played the cello an extra hour and a half this evening... lights off, no score or formal lesson plan. I just played whatever came into my head. Sometimes I worked on bowing and rhythms and sometimes on fingering. I spent a lot of time trying to "find" the best second and third finger sounds. I was surprised that my right hand seemed to "know" where to go more often than not, and I was easily getting my first and fourth fingers on the proper tones. While I was sounding the second and third fingers on each string, I bowed slowly, concentrating on the hand position as well as using the whole bow with the proper elbow/pivot action. I picked out a few more basic songs - "Red River Valley," "Onward Christian Soldiers". I worked a lot on the C major scale - both octaves. Then some arpeggios on the upper octave. I played the fingerings over and over and over again till they felt "right".
It seems to help to do this every week or so. It's like I need to unlock and loosen up. I find that even with the lights off, I'm playing with my eyes closed. I've had less trouble keeping the bow at the right point on the strings. But doing it in the dark forces me to pay extra attention to how the bow feels.
I can't wait to try this with my new cello!
Friday, February 17, 2006
Gray day
Although I played for two hours today, I didn't feel as if I was really getting anywhere. I worked on my four new pieces for about 45 minutes, working very carefully on sections at a time. Then, after a bit, I moved on to the next piece. Maybe because it does take so long to really learn a new piece...

My left shoulder also didn't feel quite right today. I slept on it wrong, maybe, and it never did relax when I started playing. I've noticed that while I am playing, and remembering to watch my postures, that I can consciously relax my shoulders and neck and even crack them... Today, though, I couldn't get that relaxed.

I did manage to improve my bow-hold, and keep it there more subconsciously. Also my left arm height. Still more to do on the right elbow...

I've been watching the Olympics off and on this week. My favorites, so far, has been the figure skating, the ice racing, and tonite the ice dancing. I'm beginning to appreciate how hard these people have to work to get there. What intensity of focus! What power!

Thursday, February 16, 2006
Cello add-ons
I called the luthier shop again today to add a few more things to my order. I realized that I ought to have a backup bow. I'd already ordered a $225 bow; but at some point in the future I'm going to need to have it rehaired. So I ordered their basic $65 brazilwood bow for the backup. I'll probably use it just enough to keep it "alive". Then, I asked about a backup bridge, in case something went wrong with the one installed. J said he'd talk to the luthier about whether it ought to be a higher or lower bridge than the other one (apparently the cello case can swell - increasing its thickness - in damper weather, so people sometimes change to a shorter bridge on to lower the strings toward the fingerboard). The backup bridge costs $130. Finally, I asked if the endpin would be carbon fiber or metal. He asked which I wanted - I said carbon. Now I'm right up to $6,000.

Today we signed the papers for the 9 acre lot on Tustumena Lake Road! We close next week. Then I called the roadbuilding contractor who had done some work for us fifteen years ago about putting in a driveway and pad. He immediately remembered us, and it turns out he also had put in the subdivision road a few years back. I told him what we were after - a driveway and parking pad for our MH. I also told him we needed a new cap on our driveway at the house, and some stumps pulled. He said he'd put us on his list for just after breakup.

I continued working on my three new Suzuki pieces today. I've got the first one pretty much figured out and the A part of the second one more or less; and I worked through the first line from the third one. I also carefully listened to the CD versions. I'd sure like to be able to play the first two of these halfway decently with my teacher at my next lesson on the 27th - ON MY NEW CELLO! I'm not sure it will be here in time, unfortunately.

Wednesday, February 15, 2006
I bought a cello!
I finally ordered my cello today! It turns out that the luthier does not normally ship cellos out of town for trial. They do ship violins and violas out - even just for trials. It seemed that they were concerned about shipping costs. I told him I was intending to go ahead and buy a Jay-Haide a l'ancienne cello, and that I'd pay 2nd day air ($280) and for the return shipping if for some unexpected reason (like it just doesn't sound right) I did want to return it. That changed everything.

They only have the Stradivarius and Ruggieri designs available right now. Sometimes they also have the Gofriller and Montagnana designs. The Jay-Haide a l'anciennes are widely known and apparently well-respected, but the warmest praise seems to go to the Ruggieri and the Montagnana. The Ruggieri is almost an inch wider on the bottom bout, and a bit shorter in height than the Strad. Its larger air volume produces a richer, darker sound. I'm looking forward to being able to make just that kind of cello sound.

I also ordered a J-H pernambuco wood bow with ebony frog and nickel-chrome fittings ($225), and a wide-body Bobelock plywood case ($375). The luthier needs a week to get it all setup and ready to ship. Waiting is going to be hard, especially after agonizing about it for so long. J is going to call me when it's ready to ship. I will also buy a wolf eliminator, get recommendations about polish, etc., humidifiers, and so on. To protect it from drying out, I'm going to have to store the new cello inside its closed case - with humidifiers. Bummer.

Today when I played, I felt like I was holding the bow better, and keeping my left arm up, the left thumb relaxed and the left fingers appropriately curled on the string. I still have to work on pivoting at my right elbow. I recognize slow but steady progress every day. I quickly went through my the first round of pieces and started to work on the new ones. Time slipped away.

Yesterday we closed on our land in Hawaii and agreed to buy the land here in Alaska. I'm using some of the excess profits to pay for the cello.

Tuesday, February 14, 2006
30 Million Dollars - Molly!
I am getting a new cello!
Today, I
tried
to order a new cello. After studying them, reading all the forums, looking at all the websites, and finally going with my gut, I decided this afternoon to go for the Jay-Haide a l'ancienne, from a luthier in California.
They make four kinds of "a l'ancienne" cellos - Stradivarius, Montagnana, Gofriller, and Ruggieri. The Montagnana and Gofriller are a bit larger. There are a surprising number of posters on the forums who own at least one Jay-Haide a l'ancienne, and have only good things to say about them. A couple of posters especially liked the sound from their Ruggieri (it's supposedly just a little smaller than their standard Strad design.)
So, I first called them at 1:15, but they said everyone was busy and they'd call me back. After waiting more than an hour I called them again and talked to J. He told me about their four styles, and said he didn't
think
they had any Gofrillers or Montagnanas. I asked some basic questions about the differences between them, and I started to feel like I wasn't really talking to a knowledgeable person. When I asked him to describe the sound from each he told me he had to talk to some guy in the back about it and get back to me.
The sell a fully lined basic vinyl covered plywood case (a Bubelock) that costs about $400 (I think) along with a standard bow. J didn't know about how it would be shipped. Normally, they shipped the cellos out in "shipping container" and then send the case out later after the trial period. I'm going to research cases from other vendors. I'd like a hard ABS case instead of plywood.
To take one on a two-week trial, he said they needed a signed contract with a good-quality copy of both sides of my driver's license.
Faxed
. I don't have a fax, but asked if they'd would email me a pdf or doc; which I'd print, sign, scan, and email back as a jpg or pdf or whatever they wanted (it turns out that I can fax a scanned document from my desktop). It would be a better quality document than a double-faxed contract. J didn't know if they could do that, imagine! He said he'd have to talk to their accounting people. That he'd get back to me.
Anyway, I ought to be more jazzed, but my excitement has been flattened a bit by this second failure to get a callback. On the assumption that J has really been busy getting everything sorted out and will call me back in the morning with all the information needed to get this done, I'll wait until 10:30 (after I finish playing), before calling one more time - hopefully talking to someone else this time.
Today I worked on the techniques and tips from yesterday's lesson. With some improvements notable. I took a long warmup and then whizzed through most of the pieces up through #12; stopping to work on any areas of weakness. Then I went onto the C string and played #13 "Rigadoon", using the techniques I had layed out last night - tapping the rhythm, bowing the rhythm while saying the notes, then fingering with pizzicato, then all combined. I took time to learn each measure, then each section. I did the same with #14 "Etude", #15 "The Happy Farmer", and even peeked at the first few bars of #17 "Minuet #2" by Bach!! I can't believe I'm going to be learning Bach already! S says she normally skips #16 - also by Bach - until later in Suzuki Volume 2.
It was fun working out these new pieces. I like the challenge and the result. I know I need to be careful not to go too fast. It is necessary to work on endless repetitions - until the reading/memory, the bowing, the fingering, and the emotional intention all merge into one beautiful piece of music. I figure I'll work on these new pieces for quite some time. In the middle of all that,
I'll be getting my new cello!
That will motivate me to carefully work up through the whole Suzuki book once again, so I can train my new cello.
I firmly believe that the wood in a good cello learns how to vibrate as it is played. This makes the cello take on the musical personality of its musician. How and how often it's played affects how it sounds. So, first I want to teach it what little I've already learned in my brief 3 months of playing. Then we can start learning how to make beautiful music
together
.
I also worked on my four independent pieces - trying many of them in different keys including the second C octave (starting at G+4). That's been an interesting challenge, since I've only been playing them in the basic open string keys of D major, G major, and C major, which all use the same finger locations on strings. The second C major scale uses completely different fingerings.
Monday, February 13, 2006
Third Lesson
At least it wasn't snowing today for my hour and 15 minute drive to my lesson. We'll get together every other Monday at 1:30, at a local church. At first it was a little off-putting, because the church hosts a foodbank on Mondays, so the parking lot was full. Fortunately, the foodbank is on the lower floor. We setup in a small conference room with a few chairs and a low table. I had to set a few books on a chair to raise it to a proper height (next time, I'll probably bring my stool). Being so empty, the little room did amplify the sounds well.
We quickly got down to business, tuning up and bowing a few open strings. I still need to work on my bowhold. I'm twisting my hand - like a violin bow hold, apparently. I need to hold my hand flatter, more open. It's pretty complicated just trying to understand what I'm supposed to do, much less actually accomplish it.
We worked through parts of the repertoire - starting with the full Twinkle sequence without any problem. We also played several others quite smoothly. As we got towards the later pieces, I began to lose my place (which disappointed me, since I have been playing these at home without even thinking.) She didn't play harmony this time, probably realizing - correctly - that I got distracted by listening to her. She suggested I could now move on in the Suzuki Vol. 1, to the next several pieces (yeah!) This includes the C scale...
S suggested a way for me to attack these new pieces: 1) work on rhythym without playing the notes, counting the beat with one hand while tapping the rhythm with the other; 2) bow the rhythm slowly on the open strings to train the bow hand; 3) finger the notes, using pizzicato (not bowing); 4) finally combine the fingering with bowing - slowly at first and work up to speed.
We discussed the extra work I've been doing with my recalled songs. She said I was fortunate to be able to call up the music from my memory and transpose it for the cello so easily. I demonstrated a couple of them. She encouraged me to keep at it, but not to go out of the first position, yet, and to try to focus on getting them perfect before adding new ones. I told her I was going to dig through my mother's sheet music supply to see what I might be able to transpose via Finale Notepad. She is all for it, suggesting I look for a few "rounds".
S asked me if I wanted to play in their spring recital - May 5th (I think); with the beginner group. She said they'd play the French Folk Song (the "Clown"), "Oh Come Little Children", "Long, Long Ago", and a medly that mixed "Twinkle" with something from Prokofiev. I said I had to see. I really don't want to, but I know I should - I'll probably go ahead and do it...
I mentioned that I'd probably be buying a new cello soon. She said she thought the violin store in Anchorage should have quite a few models in the $3K to $5K price range and she'd check them out this week. I asked her to call me after she got home. She said that professional cellists often test drive hundreds of cellos before selecting one.
Lots of homework and several new things to work on.
algore
I couldn't believe what I was hearing from algore this morning from his speech to some Saudi group. He ought to be arrested for treason! I wonder how many mainstream democrats are shaking their heads at how far off center this fool has drifted. I for one am sure as hell relieved he didn't win the election in 2000. Thank god for the Supreme Court!!!
No doubt the ultra-left will lionize him (and cover for him), but I can't believe he has any credibility left with mainstream America. Some A...hole VP from Chevron was also way out of line calling Bush's goal of ending our dependence on foriegn oil a "pipe-dream". Clearly Chevron has a huge conflict of interest in this. The more oil we use and the more we pay for the oil, the richer they're going to get.
Thanks for the help you guys in winning this war on terror! They both ought to be arrested!
Sunday, February 12, 2006
My Morning Jacket
Wow! I'd heard of them, and had appreciated a few songs on XPN's World Cafe, but after seeing the second half (only - unfortunately) of their Austin City Limits show, I'm now a major fan. I like their style; their experimentation - in a Jim Morrison/Doors sort of way; their willingness to play it way down and easy as well as flat out smoking. Jim James is really has a good voice. He puts so much into it, I wonder how it can last.

I tend to zone out when the Olys are on. I like winter games better than the summer ones. Especially ice skating. I like how several of the musical pieces used by the skaters feature cellos.

Today, after my normal routine on the cello, I went back to my four new pieces. I'd like to see them in print to check out one or two areas that just don't feel right yet. After dinner I went back to the cello. I turned out all the lights and sat in the dark to play. I started by bowing slowly, evenly, just the open strings; then the scales. Then I played doublets and quadruplets at varying rhythms and tempos up and down the scales. Then triplets on the scales and a few arpeggios on different keys. I also played a bit with harmonics. Finally, I played my new tunes out in several different keys and tempos - Amazing Grace, really slowly and passionately. That was exhilarating! I never get tired of hearing it. Every time I hear it I feel like my chest is glowing from the inside. It's also one of the few songs I can sing in tune.

Saturday, February 11, 2006
My "Giant Violin"
www.careymorephotography.com
This afternoon I picked up my cello again (after already playing for two hours this morning) for another hour. Instead of working from my lesson/exercise books or memorized pieces, I relaxed and just started bowing - then several old tunes from my childhood started coming out. All it took was to "hear" the first few measures in my "mind's ear" and the rest of the song just tumbled out. I took only a few run-throughs to figure out the fingering, and a few more for fine-tuning the bowing and rhythm. These aren't particularly hard pieces - "Battle Hymn of the Republic", "Shenandoah", "Home on the Range", "Amazing Grace", etc. But what was interesting was how quickly my hands and fingers knew exactly what to play without having to read it from a score; and then how quickly it all came together into a smooth run-through.
Most of these tunes are simple melodies in the more basic keys. This is the music I heard as a child and sang in elementary school, and what my mother used to sing and play on the piano. My father was also a capable pianist, but for whatever reason he seldom played. For many years my mother sang in a community choir (Sweet Adelines) and a Barbershop Quartet. She always sang loud and clear in church every Sunday.
This has me so jazzed! I've always been able to recognize music (popular music, mostly) after hearing just a few bars, and then "know" it as it plays out on the radio. I'm really psyched that it appears that I'm going to be able to play a lot of that music that has been floating around in my memories. This really has me motivated to keep on working.
My next lesson is Monday. My teacher is going to Anchorage this week and will stop at the luthier to try out his Eastman 405, which he's selling with case and bow for $3.5 K. My spending limit has drifted up somewhat from there. This brings in a lot more instruments beyond the Eastmans - even one or two European cellos. I'm eventually going to have to narrow it down to two or three models and just pick one and live with it.
I've been having doubts that I should spend so much money for something I might end up setting aside at some point. But today's playing reminds me in a very strong way why I have to learn the cello.
Comments:
Just to say! It's HOT see a Woman play the Cello! I'm a Christian that was born in Haiti and came in America at a young age, that fell in love with the Cello after hearing my music teacher's Orchestra play the music p[eace "Gauntlet", amazing peace of music. The sound of the Cello could change lives and keep progressing! I'll pray that God bless me to marry woman Cellist!Jesus loves you and he's coming soon! God Bless and Take Care!
Just to say! It's HOT see a Woman play the Cello! I'm a Christian that was born in Haiti and came in America at a young age, that fell in love with the Cello after hearing my music teacher's Orchestra play the music p[eace "Gauntlet", amazing peace of music. The sound of the Cello could change lives and keep progressing! I'll pray that God bless me to marry woman Cellist! Jesus loves you and he's coming soon! God Bless and Take Care!
Post a Comment
Links to this post:
<< Home
Friday, February 10, 2006
Warm weather returns, for a while...
Above 35 degrees today. Yay! I plowed a lot of slush off the drive. Let's hear it for spring.
I've been reflecting all day about last night's recital by Paul Rosenthal. I was so impressed with his bowing and fingerwork, especially on that Saint-Saens sonata. I lay awake for a long time hearing that last segment over and over again. I
know
I'll never be able to play like that. But I wonder if I'll ever be able to play something complex.
My practice today was not so satisfying - not surprising, I guess after last night. But it wasn't that I was so bad, necessarily, more like I'm a bit bored grinding through the same set. I feel as if I've got most of them down pretty solid - with intonation, rhythm, and technique. When I do play from the All For Strings book, at least I'm finding some challenges. I'm trying to stay patient with myself.
Also, I've not been happy with my A & D strings. Once in a while they sound OK, but mostly they sound nasal and whiney. Maybe new strings would help, but really, I want to go ahead and buy a new cello.
Here's the problem with buying a cello: There are dozens of brands. Most of the lower end cellos, including most of those in my price range ($2,500 - $5,000) are now made in China. Over the past several years, China has greatly improved it's reputation for quality stringed instruments. Still, many of the cellos are mass produced in various factories and then shipped in various states of completion to shops in the US for final work - some do final carving here, others just do the varnish, still others only put their labels inside them. The problem is, in many cases, cellos from one "factory" in China can show up at the dealers in the US with several different branded labels inside them. So how to tell which is which?
In the end, I'm just going to have to pick one and stick with it. I really doubt I'll be a good enough player for quite some time to be able to really tell the differences.
Paul Rosenthal - Violinist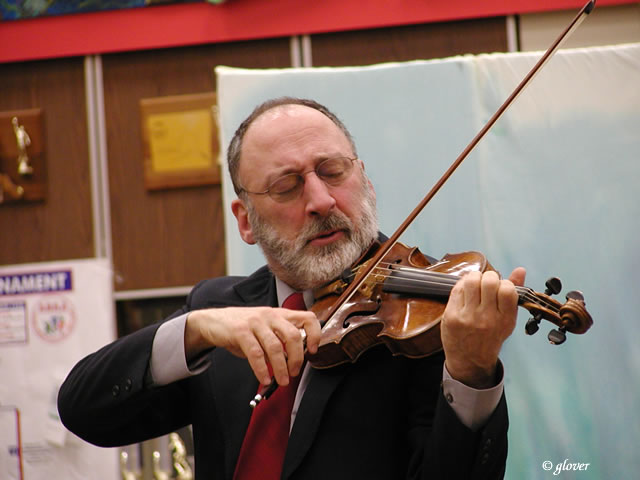 Thursday, February 9, 2006
The Sitka Summer Music Festival's Winter Concert series presented a wonderful and entertaining recital by Paul Rosenthal and pianist Arnulf von Armin in Soldotna, Alaska. They played three pieces for the violin and piano in the 1-1/2 hour program: "Violin and Piano Sonata- - Op.12, No.1" by Beethoven, "Violin Sonata" by Leos Janacek, and "Violin Sonata No. 1 in D Minor - Op.75" by Camille Saint-Saens; followed by an encore performance Rosenthal called Bach's "Air for the G-String". The setting at a local church was very relaxed and almost informal for the performers and for the audience.
Rosenthal played the first two pieces from memory, only glancing at the score from time to time when the piano took the lead. Impressive. The opening piece by Beethoven was light, airy and melodic; followed by the darker discordant piece by Janacek. Finally, the brilliant piece by Saint-Saens, which both peformers obviously enjoyed playing together, was a demanding effort - especially for the violin. Rosenthal did use the score for this one. His mastery of this enormously challenging piece was clearly evident. The audience was so caught up in the Finale, that when it ended we all caught our breath for several beats - as if no one wanted to believe it was over - before erupting in a sustained and well deserved applause.
My respect for the violin, which I only barely got to know 25 years ago, was fully restored by Rosenthal's performance tonight. In their remarks before each piece, Rosenthal noted that he was celebrating his Guarneri violin's 300th birthday this year. Imagine...
I ran into an old friend, J, whom I hadn't seen for a few years. I really wasn't surprised to see him at this recital, but I had forgotten he plays the banjo. He mentioned that there is a "slow Jam" bluegrass session held every Thursday night at that same venue, where anyone and everyone was welcome to come sit in. They call it a slow jam because it is intended for the newer, inexperienced players to feel more comfortable to join in. I told J I was learning the cello, and he immediately wanted me come to their sessions. I said I'd be around sooner or later, but was still struggling with the basics. He said they'd be really happy to have a cello in the mix. It would add a more exotic, jazzy touch to all the guitars and banjos. I suppose I could start out by playing drones until I got loose enough to experiment.
Wednesday, February 08, 2006
Even Bill OReilly took on Jimmy over his inconsiderate remarks
A day has passed, but my distaste for that whole fiasco lingers.

I read some blogs that snidely suggested that the people who are complaining about the islamic reaction to the Danish cartoons are the same people who complained about Newsweek publishing its article about the Koran being flushed in a toilet at Gitmo. As if there was some sort of contradiction, here. On the one hand a bunch of mullahs are whipping up mobs of hatred and violence against the west because of some cartoon depictions of their prophet - on the other hand a major news magazine printed a false article based on an unsubstantiated anonymous source, which provoked a violent reaction. Is it wrong to think Newsweek should have expected the reaction that ensued and should have gone out of its way to substantiate those allegations before printing them? It's not that Newsweek should not have published the article out of respect for the sensitivities of the islamic world, they shouldn't have published the article because it was flat-out wrong!

It's fun watching the leftist media squirm around on this one. This issue pits the rights of free press and free speech against their PC "sensitivities" for the "feelings" of other religious points of view. These same newspapers went out of their way to publish and publicize negative, anti-christian "art" and depictions, hiding behind the above rights and claiming that christians should be more open to other points of view. You can't have it both ways; either all religions should be willing to accept other points of view or we should all avoid offending other religions with our own points of view. Well al-NYT, what do you have to say?

It's amazing how they can take such a small issue and blow it out of proportion so badly that people are willing to die in protest! We in the west will never understand that people would do that upon command. We're going to have to prepare to take them on, when they do make their move, but we're years late in getting serious about this. The US will hurt the most because we are so dependent on their oil. We don't have any alternative energy sources, and only a handful of aging nuke plants. Europe and Asia are building nuke plants left and right. I'll bet they'd survive the oil wars better than we would.

This muscle flexing by the mullahs, showing that they can regularly whip up these kinds of mobs on a moment's notice, should make the western world wake up to the fact that the people of the middle east, who are so afraid to think and act for themselves, appear to be willing gladly follow their leaders into hell if they are told to.


Syria – Iran – Lebanon/Hezbollah – Hamas – Al Queda

While Iran is working the nuclear weapons angle, Syria is quietly (more or less) preparing on several other fronts. Sadamn secretly sent all his WMDs and military supplies into Syria in the year or so leading up to our invasion. So Syria is quite well armed. Israel should take note. Of course all the pundits say that those two countries were bitter enemies so that just wouldn't have happened. But the one thing that united them more than any inter-faith squabble divided them was their rabid hatred for the west and for Israel. There should be no doubt that these two made amends at some point along the way. What did either of them have to lose?

The same can be said for Iran working with al-Queda (and for Sadamn having worked with them). The pundits say they are bitter enemies who would never trust each other. But their common enemy (the west) is far more important right now than any trivial religous differences.

Now Syria is actively supporting the terrorist elements in Iraq – out of the chaos, they expect to grab as much of the Sunni areas as they can. I'll bet they go after the Kurdish territory first. Iran will be busy scrambling after as much of the Shiite and oil-rich areas they can grab onto.

For a while this past year Syria did earn an international black eye over the assassination in Lebanon last fall. An it almost looked like they'd actually be called to account. But that seems to have passed by. And look at the result: Lebanon's anti-Syrian element is powerless. Syria has Hezbollah running half of Lebanon and Hamas running Palestine, which puts Israel on the defensive on three separate fronts. The King of Jordan should be very worried about an assassination attempt. Once you add a radicalized Jordan to the al-Queda – Iran – Syria – Lebanon/Hezbollah – Hamas axis of evil, a four-fronted invasion of Israel is only a matter of time.

Iraq is the lynch pin. If we back down, if we don't find a way to win over the general populace, if we leave too early without fixing it, Iraq will crumble into chaos and WWIII will begin. If we do bail out of Iraq before they are ready, history will probably eventually establish the start of WWIII at the point in 2003 when the US invaded Iraq.

Tuesday, February 07, 2006
Jimmy, you ain't got no class!
How disappointing for you to weasel in those snide comments at Bush today! What makes you think you are the better person, Jimmy Carter? What humility you displayed today! Today's arrogant, holier-than-thou display was so far overboard, considering the only reason you had that platform in the first place was to praise a good person who lived a good life. How do your political feelings about Bush have anything to do with Coretta Scott King's good life? I suppose you'll hide behind your "right" to say whatever you want, when you want.
As far as I'm concerned, your insulting behavior diminishes your own reputation in history.
As for the other speakers who chose to insult our elected president in a humble forum like that, I just can't believe it: What happened to respect in the general discourse? There are times, to be sure, such as formal debates (and roasts), when sarcasm, satire, and political jabs are all a part of the game. Do you demos really think this behavior endears you to the average joe voter? To those who live decent lives, want good things to happen to families and friends, and generally harbor no ill will towards other people? I often disagree about lots of things with other people, but that doesn't mean I'd ever take the opportunity to insult someone so publicly to his face in a situation like this. For just a moment, I flashed on that scene back in the LA riots when that driver (R. Denny?) was dragged from his car and beaten in the street by a bunch of thugs – specifically when the one guy ran up from behind and threw a concrete block at his head and then elaborately danced away, laughing. It was that little victory dance by the "Reverend" Joseph Lowery and Charlie Rangell that got to me today. By the time the thing was done, the floor was littered with race cards.
What if the people who eulogized Ronald Reagan at his funeral had usurped that forum to slam the few demos in attendance?
After more than 15 months of avoiding my workshop, I finally hauled the lumber I'd bought for my next set of
Adirondacks
(nice, straight, planed, and dry) into the loft in my bedroom, and put up a lot of the junk that has slowly accumulated onto all the tables and workbenches in the last year or so. I still don't know why I'd stopped working on them. I'll have to tackle that question later... Suddenly, I have a garage, again.
Then I put my old Subaru in the garage to replace the brake pads on all four wheels and to take my slow leaking tire into town to get it fixed. It only took a couple hours to get it all done. Hopefully I'll get several more years of service out of it. That car is the finest car I've ever driven. It's always been fast and responsive, yet great on snow and ice. I've driven quite a bit more than a million miles over the years; the 125,000 miles in that 1992 Subaru SVX were the best. It also has a great sound system. Lately I've been listening to Yo-Yo Ma. Amazing!
I played my cello for two more hours today. I'm actually beginning to feel a little bit of control over some of the pieces. If I really concentrate (and relax), all the parts come together and it actually sounds pretty good. Time sure flies when I'm playing. I put about an hour and a half into the Suzuki pieces and then half an hour in the All for Strings book. For a while today, I found a comfortable position for my bow hand and it helped my accuracy. I even managed to do some of the trickier bow changes, without too much problem. It seems to me as if it's pretty close to the pictures in the Potter book, yet somehow it also seems like what I was doing before my first lesson.
I'm beginning to lean towards the Jay Haide l'ancienne cello from Ifshin violins. At $5.5K it's more than I'd expected to pay, but I'm only going to buy one cello and I want it to be good. I can't explain exactly why I'm leaning that way, but I've been reading the
cello.org
forums and am getting to "know" several of the cellists who post there. After reading their varied points of view on every issue, I've come to respect some more than others, and a few of these have either owned or recently bought a Jay Haide, or they've said a lot of good things about it. If I decide not to spend that much, I'll probably go with the Eastman 405 or the Stringworks Soloist. The Eastman if I decide to buy locally.
Monday, February 06, 2006
WWIII
I don't get it. The mullahs are outraged that a European newspaper published some political cartoons that criticized the Islamic terrorists – mostly because they caricatured Mohammed. For this the Islamic fanatics have turned out into the streets, burning embassies, and calling for the death of the cartoonist(s?) who drew them. Yet, in their world vision, it's perfectly OK for some thin-mustached idiot to put on a bomb belt and walk into a crowd to blow up innocent civilians, even kids, without a single word of condemnation from these same mullahs. It's OK for the fanatical handlers of these idiots to cut off the heads of innocent people to make a political statement. It's OK for the Arab press to constantly publish equally offensive cartoons against Israel, Jews, Jesus, and Christianity. It's OK for the Iranians to send their 6 and 7 year old children out into the minefields in front of their troops during their 1980 war with Iraq. What a bunch of hypocrites!

I'm beginning to think that we are heading toward an all out war with the Islamic fanatics, that will eventually envelop the whole world – World War III. This time, they'll have and use nukes – for that reason, I think Israel is doomed, also any Arab government that doesn't buy into the terrorists' cause. At first, we'll see the same type of appeasements from the leftists, liberals, and Europeans that happened in the 1930s, in spite of clear evidence of Hitler's intentions. We'll see Russia and China stand to one side and criticize any action by the west (while they are egging on the terrorists from behind the scenes), although both of these countries should have much to fear from an inflamed Islamic populace.

The trouble is, the appeasers will dominate for many years to come, until it's too late. Every action by the west will be diminished and downsized to satisfy the appeasers. I think the powers in Iran have a grand vision with it all carefully laid out. Each step in their plan is carefully designed to be just less than total provocation, and they'll sit back and laugh while we fight amongst ourselves in trying to formulate a credible response (using committees, no less!) After Iraq, it is extremely unlikely that the US would take unilateral action against Iran. The US will turn to the UN, which has never taken a unified stance on anything in its 60-year history. (The response in Korea in 1950 only happened because the USSR stormed out of a meeting and the key vote was taken in their absence. That won't happen again.) To get the UN to act this time, we'd have to get Syria, Libya, Venezuela, etc., not to mention Russia and China to agree.

So, while we debate and discuss and fight amongst ourselves over a response to each provocation, Iran will be preparing its next just-less-than-provocative step. And the process will start all over again, and again. Until it's too late. Once Iran has a supply of nukes, it won't be so easy to stop them, not with all of Europe within its reach.

History shows that civilized peoples have never been willing to accept the idea that uncivilized mauraders are capable of destroying their way of life. The biggest flaw in our whole concept of civilization is our assumption that everybody else is equally civilized, too, and just as peace-loving at heart. Yet look at recent history – Stalin, Hitler, Tojo, Mao, Kim Il Sung, Pol Pot, Idi Amin, Saddamn, Milosovich, now Ahmenijad and Usama, along with a host of nameless African dictators that have callously thrown their own peoples into the fires of battle to try to achieve their own megalomanic visions of running the world. Not a one of these monsters cared one bit about their own peace loving peoples nor about any of the other populations they slaughtered along the way.

We just can't accept that civilized peoples would tolerate that kind of leadership, much worse allow themselves to be led by these tyrannical despots into suicidal wars against the rest of the world. Yet the proud parents of Iran willingly gave up their children to act as human mine sweepers, and continue to support that government to this day. Amazingly, the far left has the bizarre idea that we (the US) don't even have the right to tell Iran it can't have nukes!

Watch carefully as Iran takes one incremental baby step after another. Each time they'll promise cooperation while they drag out the negotiations with unreasonable demands in order to buy time (and make fools of their adversaries) while they actively pursue their own evil ends. Also, each time, more lying and deceiving about their compliance with the weakened obligations resulting from those negotiations. And when they are caught redhanded (just like N. Korea was caught in one blatant lie after another – after assuring Billy-Bob Clinton and Madeline Albright that they really would behave), they become more defiant and boast about having pulled one over on the west. Then the next round of negotiations starts and slowly drags out to its inevitable failed compromises, while they proceed onward with their plans. Not one of us will have the courage to step up and insist they stop – an insistence that would have to be backed up by some sort of decisive and powerful response.

Instead we're going to try to deal with Iran like "civilized people": Negotiate. Assume they don't want war. Appeal to the good in them. Fight amongst ourselves. Make speeches. Appease. This should give them all the time they need to finish their preparations, and it will make it that much more difficult and costly to stop them when we finally do wake up to the need to take action. Imagine if the civilized world had recognized the evil in Hitler and taken decisive action before he invaded Poland in 1939! How many millions of lives would have been saved.

Unlike Pol Pot, or Kim Il Sung, or Idi Amin, or even Milosovitch, who mostly decimated their own populations and maybe a few of their neighbors, Iran in its unholy alliance with Syria and Usama, intends to take on the whole world.



Suddenly, without warning, it was 40+ degrees today and windy, but the sun was out. It rained quite a bit overnight on top of the snow, but the warm winds melted quite a bit of the remaining snow. I got the deck shoveled and the soggy snow plowed from the driveway before it all turned to slush, and by evening the deck was even dry. Usually these spring-like episodes usually last only a day or so this early in the year, but it sure was a welcome sight today. Whoohoo!

A good workout with my cello again today. I'm still struggling with the bow hold, but I think I'm getting it.

Sunday, February 05, 2006
Boredom Bowl
Another boring game! Seems like every time I do bother to waste my afternoon watching the darn thing, it turns out dull. When I don't watch, I find out later it was pretty good. One time I tuned in for the last ten minutes and saw the best football in years.

We're still suffering through gray skies with light snow flurries. The days are getting noticeably longer but all that leads to is more gray.

I put in two full hours of cello playing today, and it went really good! I seemed to hit the right notes and made some nice sounds. I found myself doing most of my posture fixes more often than not. I am still having trouble with my bow hold. At times the bow seems to fit properly in my hand, but then after a bit, I'll notice my hand is wrong again. Sometimes I can get it back, but sometimes it's more of a struggle. Also, my thumb doesn't seem to know where to go. My left arm, hand and fingers seemed to work better today; besides holding the right postures they seemed to find the right notes more often than not.

The music sounded better, cleaner and more like Suzuki's CD. I made far fewer errors. I just hope I can play that way at my next lesson. After thoroughly working Suzuki, I went into the All for Strings for a while.

Saturday, February 04, 2006
Pantomime Horse
For a while last night and today, Blogger wasn't working right. Last night it lost my short post. For a moment I had a weird, lost sort of feeling, when I thought my blog wouldn't get posted by midnight. I had not missed a day of posting since I had started playing cello. Today, when I republished it from Word I got an error and it didn't show up on the site. Later on after logging off and on again, it finally showed today's repost.
An off sort of day playing the cello. For a while I was a little disappointed, but I plugged away for an hour and a half. I was properly holding the bow more frequently, and I was using my elbow more. I was also somewhat successful at keeping my left elbow out and my thumb relaxed. I still have to work on keeping my fingers curled, but I am using my second finger properly most of the time now.
I played through the Suzuki pieces mostly from memory, running through each piece several times, stopping to redo the tricky parts (such as some of the string changes). Then replaying it slowly at first and then up to speed. Then I played each one in the other key – D major or G major. Nevertheless, I got through everything pretty rapidly. Then I worked on "All for Strings" for a while.
I've been looking at cellos (you're supposed to say celli, but hardly anyone does) in the $2.5K to $5K range on the internet sites of most of the major luthiers. I also spent a lot of time reviewing forum discussions about the various brands. It would seem from an apparent cross section of posters that in this range and from a few magazine reviews is that one of the nicest cellos seems to be the Jay Haide al'ancienne at $5K. I also would like to try the carbon-fiber Lewis & Clark cello at about $6K (it's getting good reviews; Paul Rosenthal, a noted Alaskan violinist, has an L&C violin). The Stringworks Soloist is also nice at about $3.5K. Eastman's 405 is also quite well-regarded at $3K. The luthier in Anchorage offers the Eastman 405 with a case and bow for $3.5 – the one my teacher is going to test-drive for me next week.
Tonight, for some reason, I've been feeling a little off about my cello progress to date and doubting if I'll ever get better. I guess I'm at one of those difficult points where I have to face the fact that this is going to be long, slow process. It is going to take a lot of continuous effort over a long time before I'm ever any good at all. The hardest part is to sense the little improvements from day to day, since any one-day's progress is so small. Any noticeable progress shows up in fits and spurts, which makes it hard to keep motivated in between. This is going to take some real dedication over a long time.
These cold, gray, snowy, short days of early February are the hardest of the year. It's only mid winter, yet we've been dark and cold for more than three months already.
From a Random Blog
http://jokesandhumoronline.blogspot.com
"However, I could tell you were pissed off about that, and felt it to be a great injustice - largely because you made a face like a troll and then glared at me and coughed so loudly and hackingly and obviously that I thought you might be trying to donate a lung, on the spot. What a Good Samaritan he must be, I tried to force myself to think! But no, you were simply expressing as eloquently as possible that you wanted it instead of me."
Slow Day
Friday, February 03, 2006

I played an hour and a half today... trying to work on accuracy while finding and maintaining the proper arm/elbow/hand/finger postures. Afterwards, I went back to the "All for Strings" book for a while. It was interesting to return to some pieces I hadn't played for three weeks. Because I was still working on the new postures, and maybe in part because I was a bit rusty on them, I didn't do as well as I had been. I am also struggling with reading the music and not losing my place while playing. This is strange, because until now reading a piece I was generally familiar with hasn't been much of a problem. It could be that I've just gotten a little rusty at reading, since I'd pretty much memorized all the Suzuki pieces.

Thursday, February 02, 2006
Lesson 2
A good lesson today. I needed to go over some things from last Saturday's lesson - a few questions and some clarifications. My right hand bow hold is now more comfortable. I was dropping my wrist too far. I still have to work a lot on using my elbow and not my shoulder to slide the bow. I'm also working at curling my left pinkie and relaxing my thumb, and holding my left arm out. Working on all this made me lose focus on the fingering.

It was interesting to play with someone else like that, something I hadn't done since I was 14 when I mostly just hid out in the back row of clarinets in my Junior HS band. I was pretty nervous at first, and kept losing my concentration. (In part, I'd lose focus because I was listening to her cello singing the same tunes I'd been scratching out of my poor beast.) I figure this is just another step of learning. It was nice to hear two cellos together, especially when I hit the right notes. On a few pieces she played the same notes, on others she played a harmony (using thirds – I don't know what that means yet, but I think that's what she said). When I did get it right – rhythm and intonation – such as on "The Clown", which S calls the cellist's anthem (her students will be playing it at their spring recital!), it was really gratifying and immediately worth the whole cost of the lesson. She pointed out that it was important to get used to playing with others.

We played six pieces. For my homework I have to go through Suzuki and mark all the sections(?) A, B, A, etc., for each piece. I also have to work on playing the pieces, especially at the string changes, much slower until I get them exactly right.

There is so much to learn…

S agreed there wouldn't be any harm working in the All for Strings book for a break – after working through my Suzuki lessons, staying away for the time being from slurring and using the second finger. She also thought my exercise book was OK.

We agreed to schedule a lesson every other Monday at 1:30 – next one is on the 13th. They'll be at a local church, because her husband has violin lessons in their music room at that time. It's a long drive – 130 miles round trip. But I do get to listen to my CD's (today I listened to Yo-Yo Ma playing Bach's six suites) as loud as I want – my old Subaru has the best sound system. Traffic was light, but again today I hit a snowstorm and had to slow way down for the last 20 miles.

After hearing another cello, I am getting antsy about upgrading from my plywood box. I don't want to upgrade just one step, but maybe two or three. I've started looking at the various models available: Stringworks' "Soloist"; Petr's Violin shop's "Eastman 405"; Cellos2Go's "Scott Cao", "Gliga", and "Klier"; Southwestern Strings' "Franz Werners", and "Hans Kroeger". S gave me a magazine and pointed out a few additional vendors worth checking out. There are dozens of other brands. She is going to the luthier in Anchorage in two weeks and promised to try out some of their Eastman 405s for me.

Wednesday, February 01, 2006
Veronica
Kristen Bell, aka Veronica Mars, is so fine! I really like how tough she is, as well as hot. I first saw her several years ago when she played a con artist in Deadwood and ended up dead. Unlike the other hotties of the high school drama genre, she isn't an ethereal beauty queen like, say Mischa Barton, instead she's cute, smart, savvy, and hot.
It was funny watching the after-action whining about Bush's speech last nite. The demos are clearly being outplayed on all fronts. The best they could do is to try to setup Sheehan with another of her pathetic protests. That and their absurd applause for having killed off Bush's Social Security plan last year (they never offered up anything realistic themselves.) There
were
a few Hillarious moments, (such as the above picture). She always looks like she's sucking on a sour lemon drop.
The thing I like best about Bush is that he says what he means and means what he says. And then he goes ahead and does it. He's direct and plain spoken, with none of the Washington insider's poli-speak, and no weasling around to avoid being held accountable. Bush knows he will be held to account by history in spite of the liberal media groups' devoting countless hours attempting to redefine him in their own twisted way before he's done what he said he's going to do.
Unlike a lot of his predecessors in that office, Bush clearly understands his role on the world stage and what he has to do (Ford, Carter and Clinton are good examples of presidents who never had a clue as to why they were there.) LBJ (at first) and Reagan also had a serious sense of purpose. LBJ ultimately fizzled out before his time was up, because he was too much of a politician (and because of Viet Nam). Reagan succeeded because he never really was a politician (in the Washington-insider mold) at all. Bush, like his father and Clinton, obviously had to have the political savvy to get there in the first place, but unlike these two predecessors, he had to step up and become a real leader after the "random external event" of the 9-11 bombings. Only a few other presidents were called on by history to be a true leader, for example Lincoln and Roosevelt. After 9-11 Bush set aside most of his politics and acted out of conviction, a sense of purpose, and a sense of responsibility rather than looking to the polls and focus groups to guide his every move.
I am amazed at the rabid hatred of Bush and his point of view. When Bush squeaked ahead of Gore in 2000, you could understand the disappointment and resentment. But ever since, it has gotten worse. It's almost as if the demos believed Bush should maybe have appointed Gore as co-president? Then the best they could come up with to challenge him was John Kerry? He's nothing more than a gaunt Ted Kennedy. When I watched the camera cutaways last night, it seemed as if John Kerry was constantly whispering to Diane Feinstein; "I should have been up there, not him". Come on, just get over it!
The demos are constantly trying to gin up any issue they can find, but they frequently wind up in the loser's side – look at the screams of indignation about bugging phones of suspected terrorists. Most Americans are glad they're looking. Aren't these the same complainers who last year were howling that Bush and his government didn't catch the 9-11 terrorists before they acted. Now that it's obvious he is actively trying to stop the terrorists in their tracks, they scream that their civil rights are being violated. What a bunch of hypocrites.
I played the cello two hours again today. It seems as if my quality has slipped a bit, because I'm focusing so hard on the various posture issues. But as those improve, the quality is sure to go up. I found a few unusual bowing rhythms today.