Friday, February 10, 2006
Paul Rosenthal - Violinist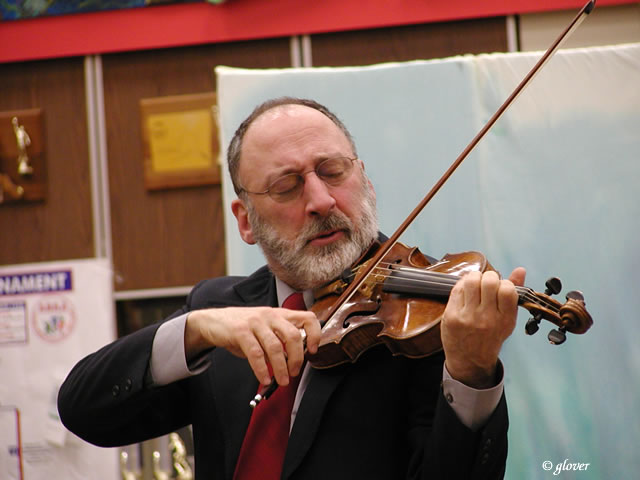 Thursday, February 9, 2006
The Sitka Summer Music Festival's Winter Concert series presented a wonderful and entertaining recital by Paul Rosenthal and pianist Arnulf von Armin in Soldotna, Alaska. They played three pieces for the violin and piano in the 1-1/2 hour program: "Violin and Piano Sonata- - Op.12, No.1" by Beethoven, "Violin Sonata" by Leos Janacek, and "Violin Sonata No. 1 in D Minor - Op.75" by Camille Saint-Saens; followed by an encore performance Rosenthal called Bach's "Air for the G-String". The setting at a local church was very relaxed and almost informal for the performers and for the audience.
Rosenthal played the first two pieces from memory, only glancing at the score from time to time when the piano took the lead. Impressive. The opening piece by Beethoven was light, airy and melodic; followed by the darker discordant piece by Janacek. Finally, the brilliant piece by Saint-Saens, which both peformers obviously enjoyed playing together, was a demanding effort - especially for the violin. Rosenthal did use the score for this one. His mastery of this enormously challenging piece was clearly evident. The audience was so caught up in the Finale, that when it ended we all caught our breath for several beats - as if no one wanted to believe it was over - before erupting in a sustained and well deserved applause.
My respect for the violin, which I only barely got to know 25 years ago, was fully restored by Rosenthal's performance tonight. In their remarks before each piece, Rosenthal noted that he was celebrating his Guarneri violin's 300th birthday this year. Imagine...
I ran into an old friend, J, whom I hadn't seen for a few years. I really wasn't surprised to see him at this recital, but I had forgotten he plays the banjo. He mentioned that there is a "slow Jam" bluegrass session held every Thursday night at that same venue, where anyone and everyone was welcome to come sit in. They call it a slow jam because it is intended for the newer, inexperienced players to feel more comfortable to join in. I told J I was learning the cello, and he immediately wanted me come to their sessions. I said I'd be around sooner or later, but was still struggling with the basics. He said they'd be really happy to have a cello in the mix. It would add a more exotic, jazzy touch to all the guitars and banjos. I suppose I could start out by playing drones until I got loose enough to experiment.